Director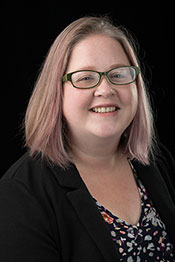 Twila Wingrove
Associate Professor, Experimental Psychology - wingroveta@appstate.edu
Twila earned a JD and PhD from the University of Nebraska. She has been a faculty member in the psychology department since 2009. She currently serves as Program Director for the Experimental Psychology MA program. Twila has expertise in experimental research design, survey and questionnaire development, factorial analyses, multiple regression analyses, and structural equation modeling. Her current line of academic research focuses on jury decision-making in sexual assault cases.
Click here for more information regarding Dr. Wingrove's education, representative publications, and current topics of research.
---
Research Consultants
Sidney Murray
Seeking MA in Experimental Psychology - murrayls2@appstate.edu
Sidney entered Appalachian State's experimental psychology graduate program after graduating from Wake Forest University in 2018. She researches eating disorder predictors such as fat talk and social physique anxiety with Dr. Doris Bazzini. Throughout the duration of the program, she has been directly involved with design and analyses in Dr. Bazzini's lab, and has taken a statistics course every semester.
Her long-term career goal is to research treatments for anorexia nervosa. Working with RDA helps Sidney work towards this goal by increasing her fluency with multiple statistical software packages, allowing her to apply statistical decision-making to real life research, and providing an opportunity to work on a multi-disciplinary research team. In her free time, she enjoys playing music and writing songs.
Jeremy Spain
Seeking MS in Applied Data Analytics - spainjm@appstate.edu
Jeremy graduated from Appalachian State in Spring 2019 with a BSBA in Computer Information Systems. In Summer 2020, he will earn an MS in Applied Data Analytics. His academic focus involves quantitative methods, problem analysis, optimization models, and computational techniques. Jeremy is knowledgeable in C++, MySQL, R, and Excel. Upon graduation, he will seek Project Management Professional(PMP) accreditation from the Project Management Institute.
His eventual goal is a career as a Data Analyst and Project Manager. In his role as a Statistics Consultant for RDA, Jeremy is improving his soft skills and furthering his proficiencies in statistical analysis languages and software--such as R, SAS, and Stata. You can find Jeremy enjoying his spare time by playing intramural soccer, chipping away at the competition in the Rocket League global top 100 leaderboards, or on his favorite hiking trails around Boone.