Director and Research Consultants
Director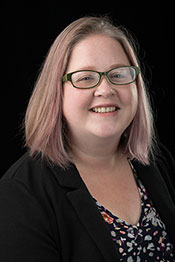 Twila Wingrove
Professor, Experimental Psychology - wingroveta@appstate.edu
Twila earned a JD and PhD from the University of Nebraska. She has been a faculty member in the psychology department since 2009. She currently serves as Program Director for the Experimental Psychology MA program. Twila has expertise in experimental research design, survey and questionnaire development, factorial analyses, multiple regression analyses, and structural equation modeling. Her current line of academic research focuses on jury decision-making in sexual assault cases.
Click here for more information regarding Dr. Wingrove's education, representative publications, and current topics of research.
---
Research Consultants
Patricia Ferreira
Seeking MA in Experimental Psychology - ferreirapa@appstate.edu
After graduating from University of Massachusetts Lowell Spring 2019, Patricia enrolled in Appalachian State's Experimental Psychology Master's program the following Fall. Patricia's research interests fall into the broad realm of legal psychology, with a main focus on juror decision-making. During her undergraduate and graduate career, Patricia has completed statistics courses and helped design and analyze data for studies she has collaborated on with others.
Patricia's ultimate goal is to continue conducting research that will help improve our legal system's ability to carry out justice. As an RDA Consultant, Patricia is continuing to hone her abilities to (a) seamlessly navigate different statistical software packages and (b) apply statistical concepts to research questions from various disciplines. In her spare time, Patricia enjoys reading, exercising and spending time with her cat, Bella.
Christian Hall
Seeking MA in Experimental Psychology - hallca4@appstate.edu
Christian graduated from Virginia Tech in 2016 with a bachelor's in biochemistry, and is now pursuing a master's degree in experimental psychology. As manager of Dr. Joshua Broman-Fulks's anxiety lab, he has designed studies, analyzed data, and written about a variety of topics ranging from anxiety and its risk factors to mindfulness and exercise. He is skilled in a variety of statistical approaches and programming languages and constantly pursuing new content. Currently writing a chapter on taxometric analyses in child and adolescent anxiety for a clinician's handbook, he has been most recently invested in mastering taxometric methods and latent class analysis.
Through his involvement with RDA, Christian hopes to advance his own knowledge of statistics and design while helping inform others of best practices in experimental design, database management, and analysis. Although his long term goals involve clinical practice and research into acceptance- and mindfulness-based therapies, Christian spends his free time reading philosophy, songwriting, and running.